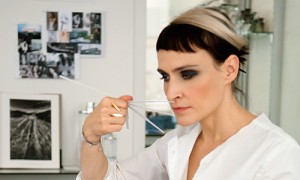 When Mathilde Laurent left Guerlain to become the in-house perfumer at Cartier in charge of bespoke perfumes, the famous perfume critic Luca Turin wrote

"it`s the saddest waste of human talent since Rimbaud decided to study engineering".
But instead Mathilde`s talent bloomed at Cartier: she made a masculine mint-n-cedar Roadster and a number of feminines; most recently Baiser Vole. That`s not even mentioning her brilliant extra-luxe collection Les Heures de Cartier which is praised by perfume aficionados as much as Les Exclusifs de Chanel, Hermessence, Tom Ford Private Blend, and Christian Dior Couturier et Parfumeur. Her talent is compared favourably to Jean-Claude Ellena, Jacques Polge, Francois Demachy…
So Jean-Paul Guerlain should be proud of his apprentice Mathilde Laurent. What was the most important lesson she took from Jean-Paul – find out in my short personal interview.
Sergey Borisov: Please, tell our readers about your background.
Mathilde Laurent: I am coming from the artistic family, my father was an architect and everybody in my family was studying Fine Arts, that explained my fascination and passion for Art.
SB: When did you begin to feel yourself as a perfumer?
ML: I still, still don't feel myself a perfumer, you know to create a perfume it is like a white page, I always have a feeling I know nothing; I am not able to do it. I would say that at first you always have vertigo,that is why I always have a feeling that I just start my career. I feel as a perfumer when I talk about the perfumes I have created, when they are finished I feel (like) a Perfumer. (clique aqui para ler a entrevista completa)