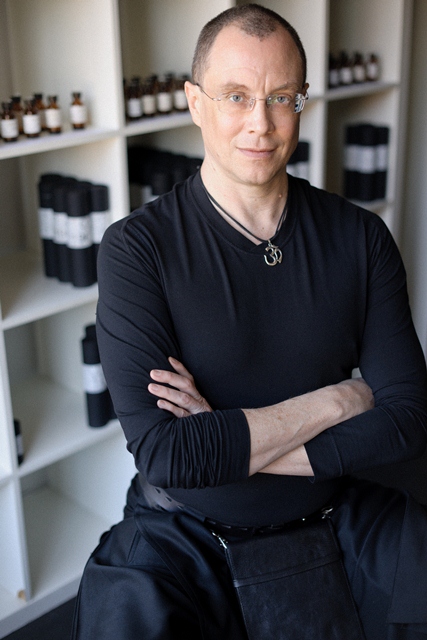 If you are a certain age and lived in New York City in the late 90s, you might remember that Demeter, which was co-founded by Christopher Brosius, was sold at Henri Bendel (their display was right next to Jean LaPorte for L'Artisan Parfumeur).The concept was radical -perfume that smelled like Dirt and Rubber? Demeter Snow and Sugar Cane won two Fragrance Foundation awards for Best Fragrance in "Nouveau Niche" -2000 and 2001 respectively (taking their place in FiFi history alongside more 'conventional' perfumes such as Dior Dune, Narciso Rodriguez 'For Her' and Calvin Klein Eternity).
After
I interviewed Christopher Brosius in 2008
I wanted to know more about one of the world's most creative and outspoken perfumers. I wanted to follow up on some of his answers, thought of questions I hadn't asked and hoped for another opportunity.
You were raised on a farm in rural Pennsylvania, what was your childhood like and when did you realize you had an olfactory gift?
CB:
Have you ever seen Lasse Halstrom's "My Life As a Dog"? My childhood was very much like the small Swedish town in that film but in English. I realized I had an olfactory gift during a conversation with Michael Edwards shortly after I won my first two Fragrance Foundation Awards in 2000.
Did your mother wear perfume?
CB:
No. She had a few very old bottles of Prince Matchabelli perfumes on her dresser but never wore them. Women didn't wear perfume were I came from – I suppose it was considered a vanity. or cheap – I'm not sure. My aunt was the exception. But she was an Avon Lady and wearing perfume was part of the job so she did. And she wore a LOT of it. My siblings and I knew instantly that she was in the house or had been there when we came home from school. This was very exciting. (clique aqui para ler a entrevista completa)